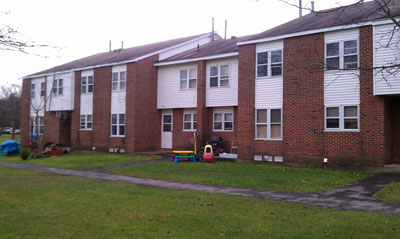 Before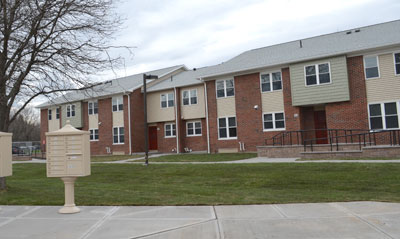 After
Brogan Manor is an 88 unit multi-family project which serves low, very-low and extremely low-income families. With a majority of three and four-bedroom units, it is one of the few rental properties in Auburn that targets large families. Constructed in 1975, the 18 buildings required substantial rehabilitation. In 2013 the AHA Development Corp., a non-profit affiliate of the Auburn Housing Authority, took ownership and collaborated with 3d Development to redevelop the property. The two-year construction period was designed to minimize any inconvenience to tenants. The modernization and resulting energy efficient improvements make for a healthier, safer, accessible and more affordable living environment. The property continues to be managed by the Auburn Housing Authority.
Emery Grove Apartments, Fulton NY

Before

After
Emery Grove Apartments, is an 85 unit multi-family project, which serves low, very-low and extremely low-income senior citizens and families. The family units were constructed in 1967 followed by the senior housing in 1970. In 2015 the Fulton Housing Authority transferred its ownership to ESI HDFC, its non-profit affiliate. 3d Development secured the financing and coordinated the transformation of the property. As part of the extensive rehabilitation 5% of the units were designed for those who are mobility impaired and an additional 5% equipped to meet the needs of the hearing and visually impaired. Other work included modernization of plumbing, electrical, heating, windows, doors, and ventilation. The redevelopment was financed with tax exempt bonds, low income housing tax credits, and NYS Public Housing Modernization program funds. Construction is in the third and final phase.
Melone Village I, Auburn NY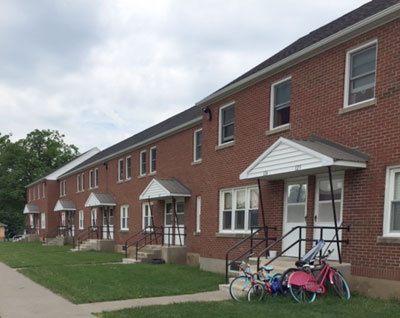 Before
After
Melone Village Redevelopment Phase I is a multi-family project which serves low-income families. The 62 units range in size from 1 to 4-bedrooms. This was substantial rehabilitation. The modernization included new kitchens and bathrooms. The additional insulation, new windows and doors, high-efficiency hot water heaters and enhanced ventilation resulted in a 25% energy efficiency improvement over past operations. Seven units were constructed to be handicapped accessible and equipped. An additional five units are equipped for the needs of visual or hearing impaired tenants.
Baptist Manor, Buffalo NY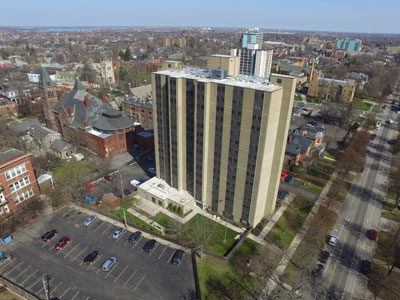 Baptist Manor is a 15-story, 126 unit multi-family project for low, very-low and extremely low-income senior citizens. Located in an historic district of Buffalo, it was important to the faith based, non-profit owner to maintain the property as affordable housing well into the future. 3d Development structured the project as a Mitchell-Lama preservation project financed by NYS Housing Finance Agency. The HUD 236 financing was decoupled to take advantage of the continuing Interest Reduction Payment. The project was approved for Project Based Rental Assistance through the second component of the HUD Rental Assistance Demonstration program. 3d Development continues to coordinate the modernization activity. Once construction is completed in late 2017, the owners will realize significant savings from energy efficiency upgrades and decreased maintenance costs. The tenants will benefit from greater accessibility, upgraded interior spaces and a healthier living environment.
Helen Hill, Saranac Lake NY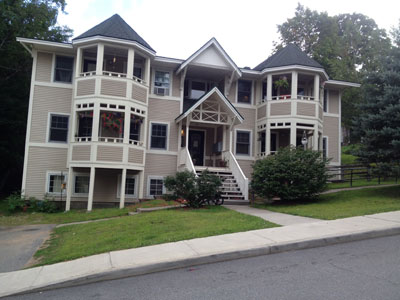 3d Development is facilitating the acquisition and rehabilitation of Helen Hill Apartments, a 12 unit LIHC/HOME project, by Adirondack Housing Development Corp. (AHDC), an affiliate of the Harrietstown Housing Authority. 3d Development worked with NYS HCR and the investor group to negotiate a purchase contract and is in the process of securing the financial resources to complete a number of capital improvements. In furtherance of its mission, AHDC will maintain the property as affordable housing.
This acquisition was completed in 2017.
Canandaigua Veterans Housing, Canandaigua, NY
3d Development collaborated with the Finger Lakes Community Development Corp., an affiliate of the Geneva Housing Authority, on Canandaigua Veterans Housing. This 48 unit project targets homeless (and at-risk of becoming homeless) veterans and their dependents who are eligible for or receive benefits from the Canandaigua VA Medical Center. Financial assistance is provided by the NYS Office of Temporary and Disabled Assistance (OTDA) and NYS HCR. The Rochester Housing Authority is providing the Section 8 project based rental assistance and the VA is providing the on-site social services. Recently 3d secured additional funding from the Federal Home Loan Bank of NY.