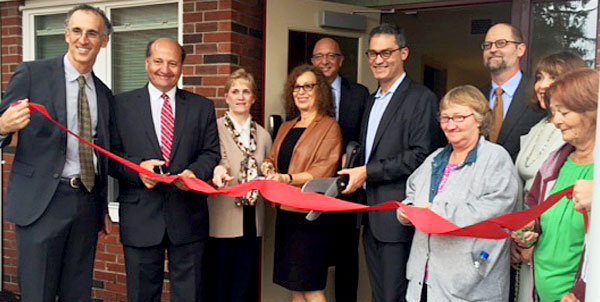 Published in New York State Homes & Community Renewal (HCR), September 29, 2015
$19 Million Renovation Brings New Life to Former Public Housing Project
Tuesday, September 29th, Auburn, NY: New York State Homes and Community Renewal (HCR) Commissioner James S. Rubin; Bruce Levine, 3d Development Group, Stephanie Hutchinson, Executive Director and Auburn Housing Authority / AHADC Board of Directors, and Jennifer Haines, Auburn Director of Planning & Economic Development joined tenants and development partners to celebrate the reopening of the 88-unit Brogan Manor following a $19 million renovation and upgrade. The property, located at 37 Olympia Avenue and constructed in 1975, had been owned by the Auburn Housing Authority and is now an affordable multifamily housing complex that serves individuals and families.
TK "Preserving housing, and in particular housing that had been previously financed with public funds, as an affordable resource is one of Governor Cuomo's priorities," said HCR Commissioner Rubin. "This was also a priority for the City of Auburn and our many partners. As a result, Brogan Manor is newly energy efficient, with renovated apartments, facades and grounds, ten of the units are now fully accessible, and 20 households on the Housing Authority waiting list have been given homes here. The transformation from rundown to renewed has tenants proud to call this home."
With a total development cost of more than $19 million, the City Council recognized the substantial impact such an investment would have on the neighborhood and supported the efforts. Stephanie Hutchinson, Executive Director of the Housing Authority, explained, "The rehabilitation of Brogan Manor would not have been possible without the City's help – we are grateful that the City Council understood the need to preserve this valuable resource for Auburn's working families." The Auburn Housing Authority also allocated 22 units of project-based Section 8 to the complex to ensure the housing remains affordable.
New York State Homes and Community Renewal made a significant financial commitment to the project, including $2.5 million in Public Housing Modernization funds, $150,000 from the Drug Elimination Program, $2.18 million from the Housing Trust Fund, and an allocation of federal low income housing tax credits. The development team raised the rest of the money through First Sterling Financial, which facilitated the sale of the tax credits. Construction financing was provided by NBT Bank.
Almost two years ago the Auburn Housing Authority, AHA Development Corp., and their development partner, 3d Development Group, LLC, of Amherst, NY, undertook the substantial rehabilitation of all 18 residential buildings comprising 88 units. The redevelopment plan focused on creating a healthier and safer living environment, including converting 5% of the units, at each unit size, into fully accessible apartments for families with a disabled family member. All units are now equipped with high efficiency furnaces, hot water heaters and kitchen appliances. Ventilation in the kitchen was added where none previously existed. Insulation was added to make a more comfortable and energy efficient living environment. All the apartments were rebuilt with modern, code compliant electrical wiring and plumbing, hard wired smoke, heat and carbon monoxide detectors. Carmella, who is raising her two great-grandchildren in one of the handicapped accessible apartments recently said, "This apartment is much more convenient, I don't have to strain anymore. I love my apartment."
The Auburn Housing Authority currently manages the property and will continue to do so. All units have been leased, but those interested in living at Brogan Manor should contact the Housing Authority at (315) 253-6249 to apply for a spot on the wait list. Ms. Hutchinson said, "We have received a lot of positive feedback from the families who live at Brogan Manor, which of course means the world to us. It's well worth the wait for those who would still like to apply."
Said Sonya, who resided at Brogan Manor prior to rehab and recently moved back to a renovated apartment, "I used to be embarrassed to tell people where I live; now people will be envious of where I live."
###